Kirsten
har laget et sett med Mixed Media vinger.
Disse vingene er festet på en nål, slik at vingene for eksempel kan settes på en bamse.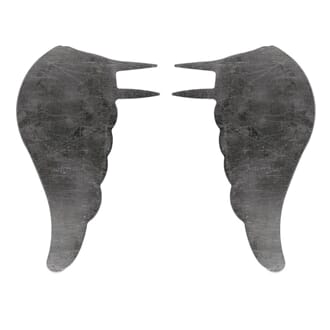 Det er brukt et sett med
metallvinger fra Rayher
. Metallspissene mellom vingene er bøyd ned og limt til en nål med
Liquitex: Super Heavy Matte
. Etter at dette har tørket, er det i tillegg limt med superlim, for å være helt sikker på at det sitter. Så er det limt på endel metall og alt er malt med sort akryllmaling. Etter at malingen har tørket er det forsiktig brukt
Metamica
for å få fram effekten i metallet.
Vingene er så pyntet med blomster og blader av chipboard.
The leaves has been distressed with distress ink, and I have added gesso to the flowers.
The metal wings from
Rayher
before they were altered.
Baksiden av vingene, der nålen synes.